Consuela Lee
was a liberator
through education

Read tributes and obituaries
including WIlcox Progressive Era
Alabama Resolution Honoring Lee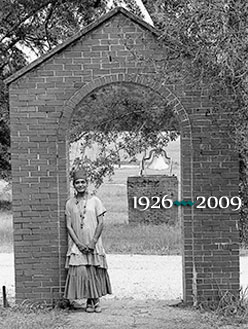 http://www.billhackwell.com/photos
Consuela Lee's trying to keep
Grandfather William James Edwards
Legacy Snow Hill Institute alive
By Alexander Cockburn
New York Press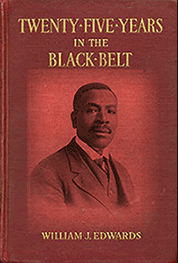 Twenty-Five Years in the Black Belt: by William James Edwards, b. 1869
Electronic Edition
Snow Hill Normal
and Industrial Institute
National Register of Historic Places
Listed on February 24, 1995

Articles in the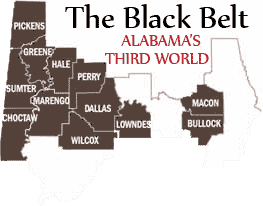 Birmingham News
Economic and Social History of the Black Belt
al.com/specialreport/birminghamnews/
?blackbelt.html
Wilcox Ala. Chamber
of Commerce
wilcoxareachamber.org/history
/snow_hill_institute.htm

To view and download video clips of Ms. Lee's performances and interviews, go to www.youtube.com/user/4MsConsuelaLee. An edited video of the Oct. 29, 2011 Consuela Lee memorial at Abyssinian Baptist Church in Harlem, N.Y. will be ready in early 2012.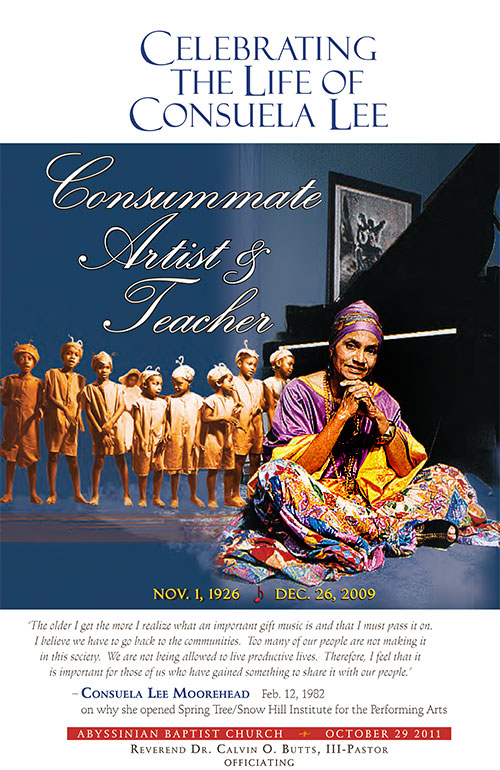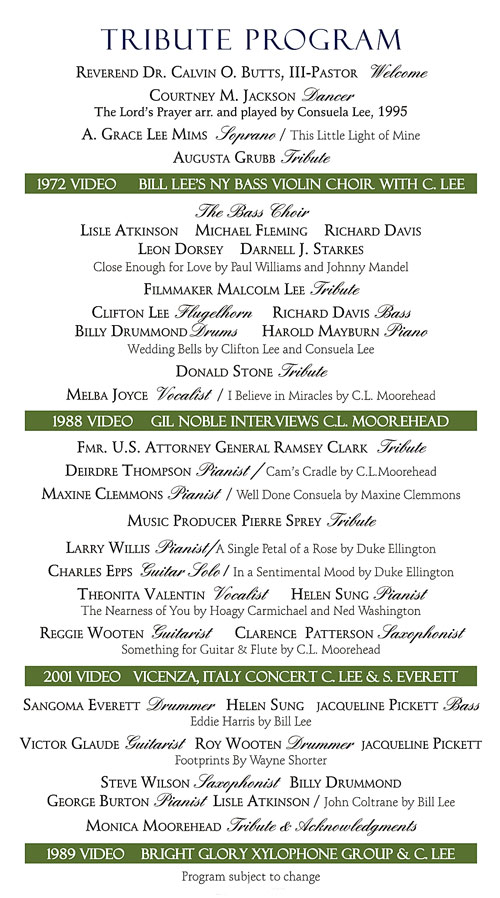 Download slideshow of photos from Consuela Lee's life containing 48 slides and many more images in a PDF format. The PowerPoint slide show was presented preceeding the event.
Videos of the Consuela Lee Memorial Tribute and the updated final program will soon be available.
Honoring Ms. Lee

This is a preview of a film tribute to the life of Consuela Lee, musician, educator and director of Snow Hill Institute for the Performing Arts, a school dedicated to the education of children, especially African-American music, in one of the poorest counties of Alabama.

In an open letter to her grandfather, William J. Edwards - the original founder of Snow Hill Institute - Lee wrote: "....there is still an urgent need for quality education, still a desperate need to teach our children moral and ethical values, to train them to become useful and productive citizens in their communities, to become responsible leaders." The film draws on conversation and music and art from the 1994 Snow Hill Institute celebration including comments from jazz great, Max Roach & actor Delroy Lindo

"Alabama's Black Belt: Legacy of slavery, sharecropping and segregation" Read
By Consuela Lee
Snow Hill, Alabama

'She used her love of jazz and Black people to
help educate the children of Wilcox County, Alabama, including Snow Hill.'
Activist Monica Moorehead,
daughter of Consuela Lee
A Special Appeal
Consuela Lee Foundation
for Music Education Inc.
was formed by her family In 2010,
to carry on Ms. Lee's far-reaching educational work.
We are presently archiving songs, sheet music and school lesson plans of Consuela Lee's innovative teaching techniques on the role of music in the process of learning. Her projects developed especially to build self-esteem for Black children in the rural South are an important resource for today's educators. This educational material deserves to be preserved and made widely accessible to a new generation of teachers.
The Foundation is hoping, with proper funding, to digitize the wealth of Ms. Lee's written, recorded and videotape material. All tax-deductible donations from the Memorial or sent through Ms. Lee's website (click the donate button above) will be utilized to ensure the Foundation's future.

To make a tax-deductible donation of $25 or more, make check payable to Center for Educational Telecommunications, put: "Consuela Lee Foundation for Music Education" on the memo line, and mail to
Consuela Lee Foundation,
225 W. 34th St Suite 1611,
New York, NY 10122-1615
Make out other checks out to the Counsuela Lee Foundation for Music Education at the same address.

Look and listen to a sampling of the material that we have already made available. With your help we can do so much to provide innovative new programs to professionals and academics in the fields of African-American History and Studies, Music Education/History and Teacher Education.
In the coming year we plan to publish a book of Consuela Lee's writings. It will help to tell the story of the importance of music and culture during segregation and the struggle to maintain a vibrant African-American culture in the U.S. This will open new possibilities.
There is a wealth of material. But it needs your support.
Please be generous.
Donations are tax-deductible.

Our children are our future.
Epiphany mapleshaderecords.com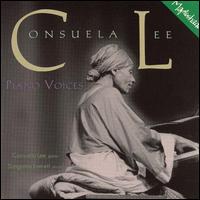 Piano Voices
mapleshaderecords.com

More Recordings

Jazz: Revolutionary
'Music of the Spirit' Read

Milt Jackson
Master Musician Read
(1923-1999)
by Consuela Lee



SARAH VAUGHAN
a Voice of Silk & Silver
By Consuela Lee Read

JAZZ: The Real Roots
By Consuela Lee Read